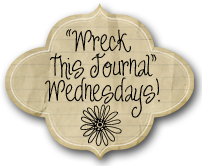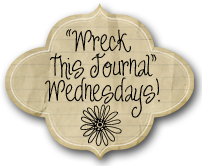 This is a new feature that we're launching this week that will hopefully be appealing to you creative thinkers out there. And I say "we" because this weekly post is going to be co-hosted by my new friend, Tonya! Tonya was one of my swap partners in the Christmas in July swap and she gave me this really cool book called "Wreck This Journal". It's a journal like no other!

This journal is an experiment. It's a chance to show your creative side. An opportunity to express yourself in a journal like you never have before!

And so Tonya & I really hope that at least a few of you will pick up a copy of this journal and join in this experiment with us. Let's unleash the creativity!

Each Wednesday, one of us will post here about what we've done in our journal that week and talk about how that experience affected our lives. It's going to be an interesting journey! So, pick up a copy of the journal, work on a page or 4 and be ready to link up your entry next week. Let's learn about each other together!