**Today is the last day for the Auction for Kori. Please go check it out here!**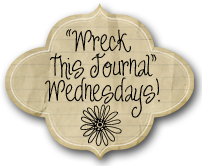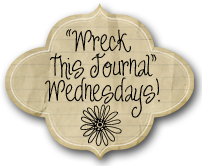 This week is my turn to show some of the things that I've worked on in my journal. Here are some of the highlights.

My first task was to crack the spine. You have no idea how hard this was for me. Ask any of my friends who have borrowed a book from me. You can't tell that I've read it because the spine is in perfect condition. I know, it's one of my anal retentive habits that I need to just get over. So, I performed the task. Aren't you proud!


My next task was filling this page with circles. This was a chance to use all the cool pens that
Tonya
gave me in my swap package!
Next, I was supposed to make a sign on this page. The only thing I could think of was something advertising my qualifications for jobs. Most who know me in "real life" know that I have more jobs than most normal people. I'm just not happy unless I have tons on my plate.
Finally, I was to glue some random newspaper clipping to the page. I knew when I spotted this article about our famous "Space House" this is what HAD to go into the book. If you want the scoop on our famous landmark, just google "space house chattanooga" and I'm sure you'll get more articles than you could ever dream of.
That's it for me this week! Next week, Tonya is going to share some of her pages with us. If any of you out there are also working on this journal, please link up here. I'm anxious to see what others are doing!