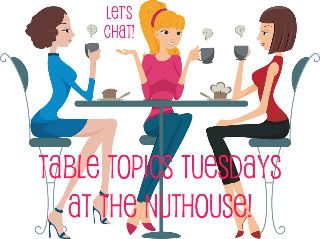 This week, my best bud
Shannon
has a very appropriate topic for me:
if you had to eat one meal for the rest of your life,
what would it be?
I didn't have to think about this one too hard, which is a bit surprising because I have several favorites on my list. However, I also am a creature of habit and find myself eating the same things over and over again. So, here's my answer.
My beverage for the meal would be a steaming pot of PG Tips Black Tea. Lots of sugar, no cream. (anyone care to guess where this tea hails from? anyone? Bueller?)
The appetizer would be a lovely bowl of Baked Potato Soup from Panera Bread. I've had this kind of soup in many restaurants and no one else does it better, in my opinion.
The main course would be Baked Breaded Chicken, Au Gratin Potatoes, Cottage Cheese & Yeast Rolls.
The dessert would be Angel Food Cake with Mayfield Chocolate Marshmellow Ice Cream on the side.
Thud.
Sorry, carb overload.
So, what would you meal consist of? If you would like to play along, head over to Shannon's to link up your entry!