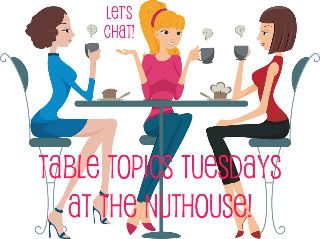 My best bud,
Shannon
, hosts this every week. The topic for today is "What's the dumbest argument that you've ever had?"
I had a really hard time with this one. Not because I think that all of my arguments have been merit worthy, but I guess because I've managed to let go of the really dumb ones.
(either that or I've simply blocked them out due to sheer embarrassment)
So let's see if I can come up with at least one. Oh yes, here we go.
The dumbest argument that I've ever had is one that I have no idea what it was about. However, it's my most memorable one because of what it cost me. It ruined a friendship that I had with someone whom I love dearly and ended up fracturing several other friendships as collateral damage.
While I'm sad that I missed out on many years of friendship and major life events with this friend, I'm so thankful that we've found each other again and it's as if we picked up right where we left off.
Maybe time does heal all wounds. One thing that I know for sure is that a true friend is someone who knows everything about you (good AND bad) and loves you anyway. While we certainly can't make up for lost time, we are definitely not missing out on any more time!
So, what's your dumbest argument? Head over to Shannon's to link up your story!